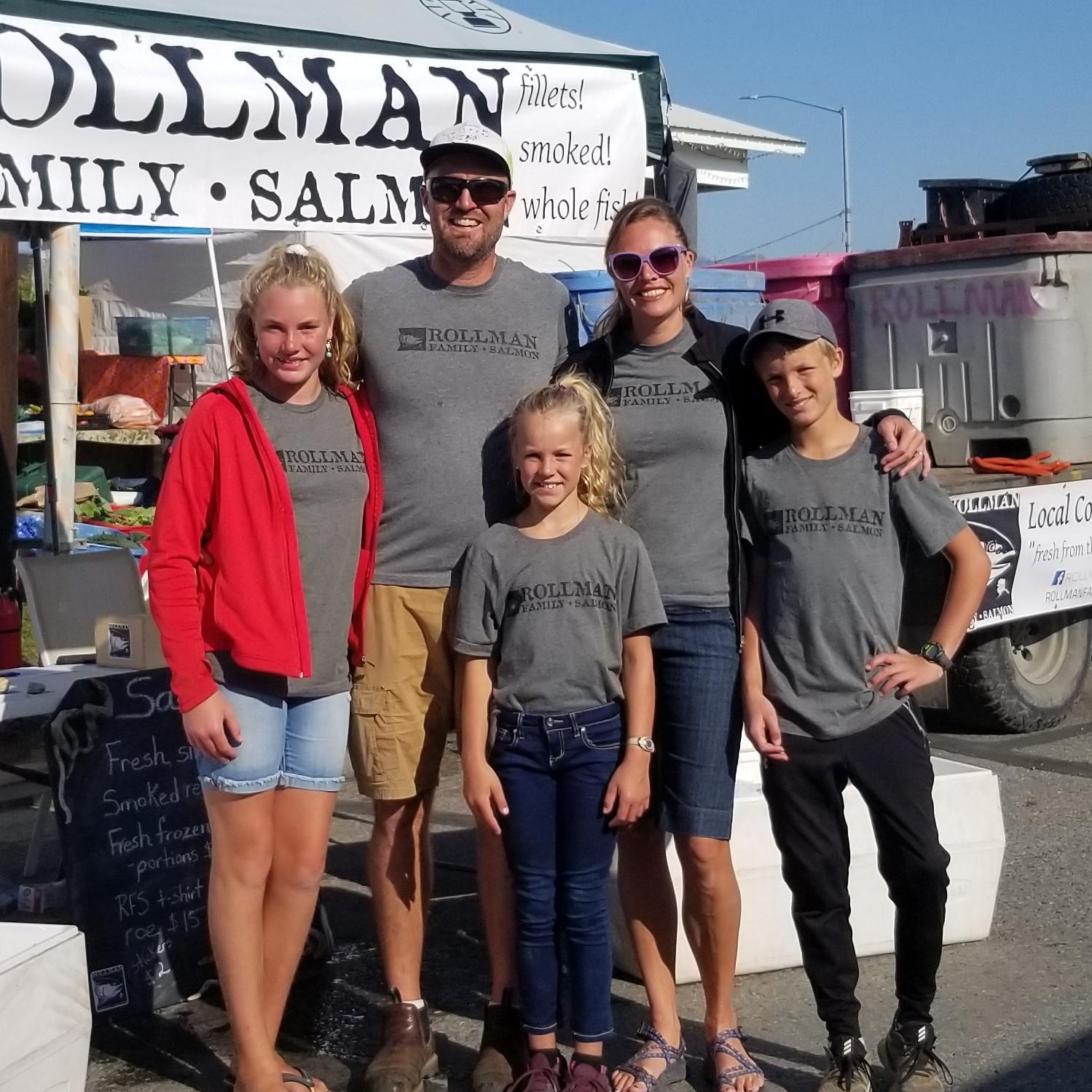 Trevor was born with a corkline in his hand. Only a week old in June of 1977, his mom and dad strapped him in the truck with his two older siblings and headed up the beach to their remote fishsite.  Another summer of hard work setnetting for salmon was ahead of them.  Growing up on the beach - learning the trade with his parents and siblings developed a passion for setnetting and a deep love of the lifestyle that has kept him coming back to the fishsite every summer since.
Forty years after that first trip up the beach, Trevor and his own young family began Rollman Family Salmon, but the story and tradition of commercial fishing in the Rollman family goes even further back...
It was the summer of 1969 when my mom and dad, Bonnie and Tom, hit the Alaska Highway with a baby in an apple crate and another on the way.  A teaching job in Anchorage had been promised if they could get just get there.  Arriving with just coins in their pockets, one of their first meals was a chum salmon given to them by a generous angler at Bird Creek.  Little did they know the significant part salmon would soon play in their lives.
After that first winter teaching, my dad jumped at the opportunity to buy a fish site, sight-unseen.  He and my uncle learned setnetting that summer from the school-of-hard-knocks and realized before long that the site they were fishing left a lot to be desired.  When the season ended and a much more desirable neighboring fish site came up for sale Dad scrambled to scrape together the resources to make the purchase: a beautiful piece of oceanfront land with a simple cabin at the mouth of Seven Egg Creek. Fishing and teaching would become a family tradition and pattern of life for decades to follow.
Through the '70s and '80s Mom and Dad raised us kids on the beach, teaching us to pick fish, drive old trucks and steer tiller-handled outboards on wooden skiffs.  While catching food for the planet, they also taught us how to grow vegetables, cut firewood and hunt moose.  We hauled drinking water from the creek, heated and cooked with a wood stove and used kerosene lamps for light.  I cherished growing up in "the bush", close to the land and water.  I knew that one day, when I had a family I would want to raise my kids on that same beach where they could learn the same values of hard work, resourcefulness and self-responsibility I had.
Salmon paid for my first truck and put me and my siblings through college.  Every spring my brothers and I returned to Alaska, joining our dad to harvest the provision of the ocean that would help us through the winters.  As each of us married and began families of our own we each branched into our own ventures, and fishing continued to provide.  In recent years, while my brothers have successfully diversified their fishing interests in Bristol Bay, Adria and I have focused our summer efforts at the original Cook Inlet camp at Seven Egg Creek.  In 2017 we began Rollman Family Salmon.
Direct marketing our catch had always been a dream, but now the move to add value to our catch had become somewhat of a necessity.  I was quitting my teaching job, we were selling our house in town and moving to the fishsite to stay for the winter!
We weren't sure how things would go, but not long after posting flyers around town and starting a Facebook page, orders started coming in.  A few weeks later we were making our first trip to the Friday Fling to meet-up with our new customers!  The inaugural season would be a success and supported us nicely through our winter off-the-grid.
Since then every winter has looked different for our family, but in keeping with the age-old pattern, summers at the fishsite remain our anchor and the sole means of God's provision in our lives.
Each new season we look forward to enjoying our bush-life at the fishsite and another summer of setting the nets.  We look forward to familiar, friendly faces and filling customers' coolers with fish at the Friday Fling.  We look forward to booking flights for our salmon to land in places like Minneapolis and Boston.  We look forward to steering tiller handles and driving trucks on the beach, and picking each fish with care, knowing it will be deeply appreciated by another family, like ours.